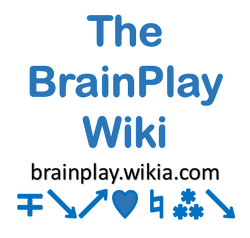 Welcome to the BrainPlay Wiki
Edit
Reasoning and critical thinking skills are foundational for school and life achievement and play is a powerful vehicle to build those skills... but not all children or schools have access to top-quality games and tools that effectively tax those skills. We created this Wiki to (hopefully) build an-ever growing repository of brain-stimulating games that can build those skills in our children (and adults too). 
Please add your own favorites and help make the ones posted here even better by trying them out and providing real-world feedback.
Games that are added to this Wiki should meet three simple requirements: 
They are challenging games that build reasoning, logic and planning skills.
They are accessible at low to no cost using common household items, art supplies, or other readily gathered or purchased materials.
They are easy to set up and you can easily describe how to construct and play the game 
The amazing, untapped power of games on the developing brain
Edit
There are millions of underprivileged young students who do not have access to the best learning environments or tools in their schools today. Because of this gap, these children are at a significant disadvantage: their reasoning and logic skills start to fall behind, they test lower on IQ and standardized tests, and they don't master STEM (science, technology, engineering, mathematics) basics–all of which are key to future job success in today's world. But, there's good news.
These gaps can actually be closed by playing simple and engaging games (yes, games). Several years ago Dr. Silvia Bunge (a psychology and neuroscience professor at UC Berkeley and also the Director of the Building Blocks of Cognition Laboratory) ran an experiment using simple off-the-shelf reason games. Their small but influential study showed that playing fun, off-the-shelf reasoning and logic games in a social group for just 2-3 hours a week was able to boost these critical skills by over 30% and even boosted IQ scores by 10 or more points (Read the full details here).
Unfortunately, to actually duplicate the kind of after-school game program that was tested would cost a school significant money ($200 to $300 for just a couple of sets of these games). We believe that every child in the world should have the opportunity to exercise their minds with engaging, stimulating games and so we have created this Wiki to be a free collection point for the most compelling games and play-based activities that build these same skills.
Note: This Wiki was originally seeded using game-submissions that came from a BigLeap.org Challenge . We hope those submissions will be just the start of a living and expanding repository. 
Some examples of kids playing learning games (care of ThinkFun).